Netflix has revolutionized the way we watch television, with a vast catalogue of original series that have garnered critical acclaim and captivated audiences worldwide. From sci-fi horror to historical drama to superhero action, there's something for everyone on this streaming platform. In this article, we'll take a deep dive into the top 10 Netflix series of all time, exploring their plots, characters, and cultural impact.
Overview of Top 10 Netflix Series
These 10 shows represent the cream of the crop when it comes to Netflix originals. They've earned high ratings, countless awards, and legions of fans who eagerly anticipate each new season. Let's take a closer look at what makes each of these series so special.
| Show | Genre | Premiere Year |
| --- | --- | --- |
| Stranger Things | Sci-Fi Horror | 2016 |
| The Crown | Historical Drama | 2016 |
| The Witcher | Fantasy | 2019 |
| Bridgerton | Period Drama | 2020 |
| Squid Game | Survival Thriller | 2021 |
| Ozark | Crime Drama | 2017 |
| The Umbrella Academy | Superhero | 2019 |
| You | Psychological Thriller | 2018 |
| Cobra Kai | Martial Arts | 2018 |
| The Queen's Gambit | Drama | 2020 |
Who are the Top 10 Netflix Series?
These shows feature a diverse range of protagonists, from plucky kids fighting supernatural threats to powerful monarchs navigating political turmoil. Some are antiheroes struggling with their own moral compass, while others are reluctant heroes pressed into duty by fate. Each series has its own unique voice and vision.
Stranger Things
Set in Hawkins, Indiana during the 1980s, Stranger Things tells the story of a group of friends who uncover a government conspiracy involving alternate dimensions and supernatural creatures. The show is a love letter to the era of Spielberg and King, with an emphasis on coming-of-age themes and nostalgic pop culture references.
The Crown
This sweeping historical drama charts the reign of Queen Elizabeth II from her ascension in 1952 to the present day. It explores everything from royal scandals to political upheavals to personal relationships, all with an eye for sumptuous detail and nuanced characters.
The Witcher
Based on the popular book series and video game franchise, The Witcher follows the adventures of Geralt of Rivia, a monster hunter for hire with his own moral code. As he travels the land battling supernatural threats and making unlikely allies, he becomes embroiled in a larger conflict that could determine the fate of the world.
Bridgerton
In this Regency-era romance, the Bridgerton siblings navigate the intricate social hierarchy of London's marriage market. Amidst all the balls, soirées, and scandalous gossip, they grapple with issues of class, gender, and identity. With lush visuals and sparkling wit, Bridgerton combines romantic tropes with modern sensibilities.
Squid Game
This darkly satirical thriller pits desperate contestants against each other in a series of twisted children's games, all with a grand prize of billions of won. But as the stakes get higher and the violence intensifies, the players realize that the true cost of winning may be their own souls. Squid Game has been praised for its sharp commentary on class inequality and its unflinching portrayal of human nature at its most savage.
Ozark
After a money-laundering scheme goes awry, Marty Byrde must relocate his family to the Ozarks to appease a drug cartel and avoid getting killed. Along the way, he encounters corrupt officials, dangerous rivals, and his own demons, all while trying to keep his family safe. Ozark is a gritty crime drama with complex characters and a sense of constant tension.
The Umbrella Academy
This offbeat superhero series follows the Hargreeves siblings, who were born under mysterious circumstances and raised to be superheroes by their eccentric adoptive father. Now grown up and estranged from each other, they must reunite to stop an impending apocalypse. With imaginative visuals, quirky humor, and a killer soundtrack, The Umbrella Academy puts a fresh spin on the genre.
You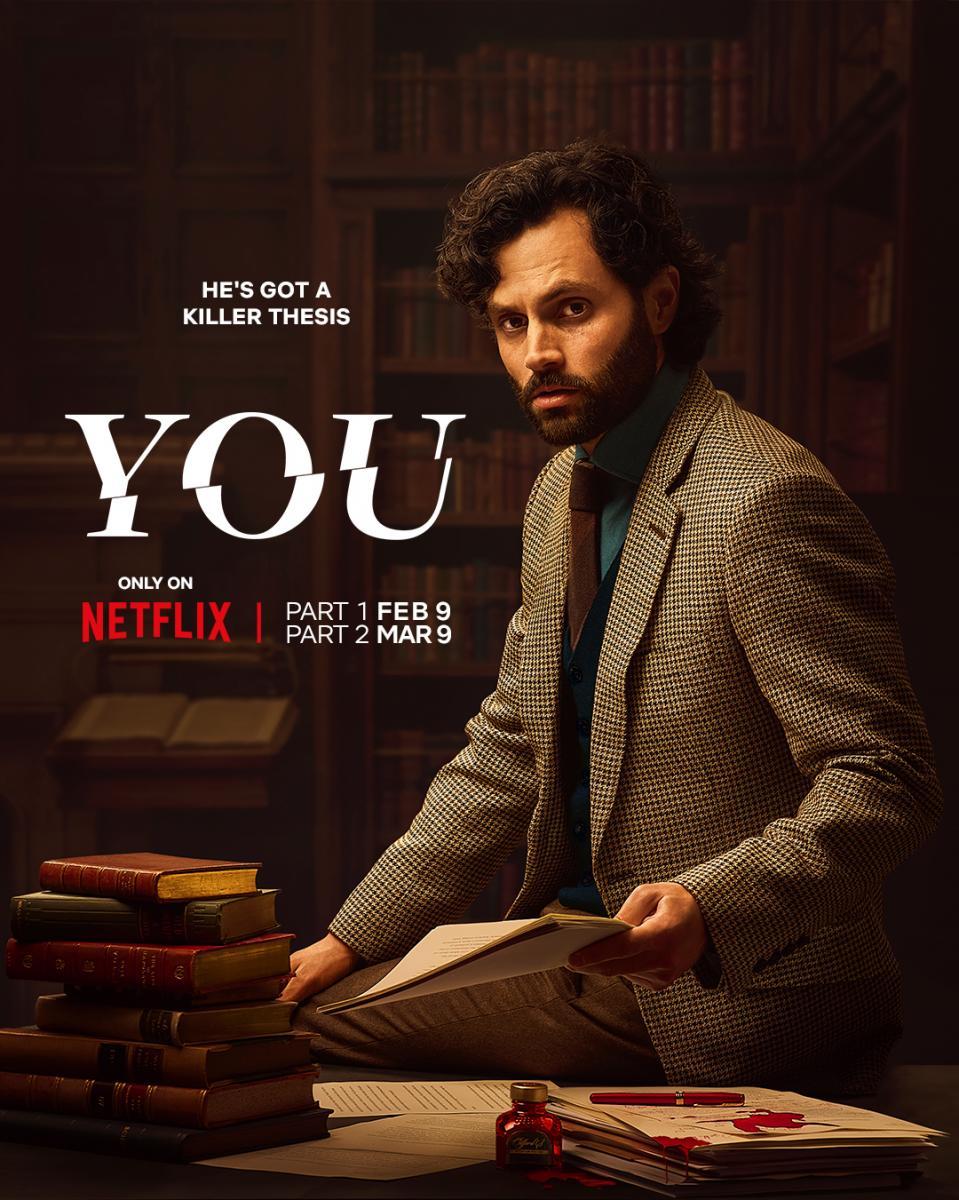 Joe Goldberg seems like a charming bookstore manager, but beneath the surface he's a dangerous stalker who will go to any lengths to win over the women he desires. You is a psychological thriller that delves into the mind of a sociopath, exploring themes of obsession, identity, and toxic masculinity.
Cobra Kai
Set 30 years after the events of The Karate Kid, Cobra Kai reunites rivals Johnny Lawrence and Daniel LaRusso as they both train new students in their respective dojos. With a mix of nostalgia and new blood, Cobra Kai updates the classic underdog story for a new paragraph
The Queen's Gambit
Set in the 1960s, The Queen's Gambit follows the rise of orphaned chess prodigy Beth Harmon as she navigates the male-dominated world of competitive chess. Along the way, she battles addiction, loneliness, and personal demons, all while striving for greatness on the board. With a standout performance from Anya Taylor-Joy and stunning cinematography, The Queen's Gambit became an instant sensation.
Biography of Top 10 Netflix Series
These shows have not only captured our hearts and minds, but they also boast impressive achievements in the industry. Here are some highlights:
Stranger Things has won six Emmy Awards and has been nominated for numerous others.
The Crown has won multiple Golden Globe Awards, Screen Actors Guild Awards, and Primetime Emmy Awards.
The Witcher has been praised for its fight choreography and visual effects, earning two British Academy Television Craft Awards.
Bridgerton has become one of Netflix's most-watched original series ever, with over 82 million households tuning in within a month of its release.
Squid Game broke records as the first Korean drama to top Netflix's global streaming chart and has been hailed as a cultural phenomenon.
Ozark has earned Jason Bateman a Primetime Emmy Award for Outstanding Directing and has been nominated for several other major awards.
The Umbrella Academy was Netflix's most popular show of 2019 and has garnered a devoted fanbase.
You has been renewed for a fourth season and has inspired a spinoff series, proving the enduring popularity of psychological thrillers.
Cobra Kai, a continuation of the classic film franchise, has been praised for its blend of nostalgia and fresh storytelling.
The Queen's Gambit has broken records as Netflix's most-watched limited series ever and has been nominated for multiple Golden Globe Awards and Primetime Emmy Awards.
Where to Watch Top 10 Netflix Series
All of these shows are available to stream exclusively on Netflix, with the exception of Bridgerton, which will be available for purchase on DVD and Blu-ray starting November 2, 2021.
Conclusion: The Best of the Best
With so many options available on Netflix, it can be overwhelming to choose what to watch. But these top 10 series are guaranteed to provide hours of entertainment and thought-provoking storytelling. From supernatural scares to historical intrigue to heartwarming moments, there's something for every mood and taste. So grab some popcorn, settle in, and get ready to binge-watch the best of the best on Netflix.
In conclusion, the top 10 Netflix series of all time have set a high bar for original programming. These shows have captured our imaginations, sparked conversations, and left lasting impressions on viewers around the world. From sci-fi to drama to comedy, they showcase the diversity and creativity of the streaming platform's offerings. With new series debuting every year, it will be fascinating to see what stories and characters Netflix will bring to life next. For now, though, we can sit back and enjoy the best of the best.